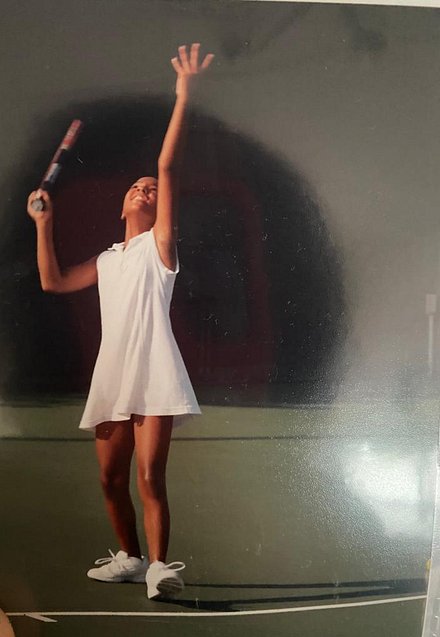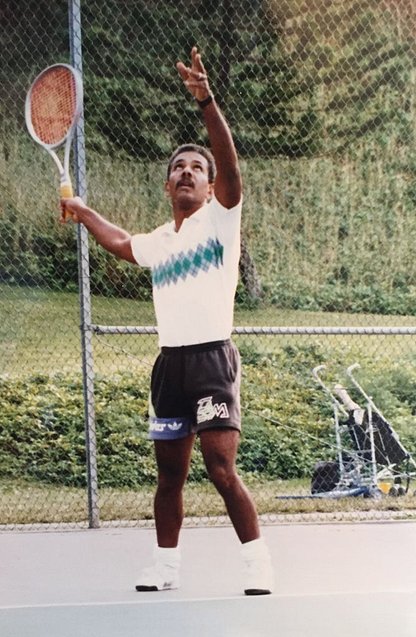 IN LOVING MEMORY OF HOWARD CROSS
Many of you knew Howard (my Daddy) as a Brother, Friend, Coach, and Colleague but there are only 3 of us in this room today who knew him as a father and I will share a few of my personal experiences with him, which prove why he will always be the best father ever.
It's no secret that I am a Daddy's Girl. As a child one memory that I recall is my Daddy dressed in his prison officers uniform heading to work for his night shift and tucking me into bed with a good night's kiss. These goodbye kisses lasted all the way up until his passing. No matter where we parted it always ended with a "Love You" and a Kiss on the cheek, and many times he may throw in "And Don't You forget it"!
I am forever thankful God blessed me with my Daddy. During my tenure at West End Primary and Sandys Middle School my Daddy transported me to and from school each day. And every day I got the same lecture about not being ready on time. He couldn't believe the fact that I had the audacity to call him and tell him I'm ready and then once he got to my house, I still had him sitting in the car waiting. Most mornings I would enter his car with a toaster struddle in my hand which implied I still hadn't even eaten my breakfast. He would just shake his head in defeat.
My Daddy was extremely protective over me. I remember wanting to pack groceries to earn some cash. He told me I wasn't allowed to pack groceries because he didn't want any older man staring or plotting on his daughter. He reassured me that at my age anything I needed or wanted he would try his best to provide for me. My Daddy was present at every dance recital, school sports, PTA Meeting, parent teacher conference, Honors assembly, School play, Pageant, fashion show, and of course every single tennis tournament. He made it his first priority to make it to these events regardless if he had tennis lessons. He would reschedule because to him nothing was more important than him being there physically to show his support for me. I recall my classmates having both parents, grandparents, aunts, and siblings there to support them and most times I would only have my Daddy. Just him and I holding it down. His presence alone felt equivalent to having the same amount of supporters as my other friends. I'll never forget this one school function this girl said to me "I wish my grandpa had a earing like your grandpa" and I gave her a straight face and said "That's my Daddy!" haha the girl was so embarrassed and apologized but that didn't bother me because as long as I can remember my Daddy has had grey hair. What's funny though is since that incident I would ask my Daddy whenever April was approaching "why don't you dye your hair black for April fool's day" he never gave in to that request, he would jokingly reply "Nah, I'll look too young, attract all the females and I can't have them all fighting over me".
I know for a fact one of my Daddy's biggest accomplishments was coaching me into a little tennis star who later became a big tennis star. It wasn't an easy road. For those who don't know the first day my father took me to play tennis I hated it and I told him I wasn't doing it again. My Daddy was not taking that for an answer and so he bribed me by saying he'll pay me 10 cents for every ball I hit over the net. 10 cents to a girl under 8 years old sounded like a lot. On top of that I was hitting all the balls over the net and making up to $10 a day. I'd go home and flash the money I earned in front of my brother's face. His next words were "I'm coming tennis" and so now my Daddy had two of his kids on his payroll. But that didn't last long because he told us straight up "look you two are making me broke, you need to make a decision either you're going to continue learning or not". And so we both stuck to it.
To Daddy tennis was everything. Tennis taught us discipline, sportsmanship, how to fight hard, and dig deep under pressure. No matter what you always shake your opponents hand at the end of a match. I remember when I took my first set off my Daddy playing at the reefs. Once we were sitting off after he said, "You know I let you beat me right". I think he knew right there my daughters deadly.
I am forever indebted to my Daddy for sharing his passion and dream with me. Tennis opened me up to so many opportunities from representing Bermuda internationally to providing me a scholarship for University. My Daddy was so proud of me and apparently would brag about me to all sorts of people because eventually it would get back to me if I had passed these people in the streets. He would tell folks how happy he was that his daughter had finished her degree in accounting, was back on island working for Deloitte, bought herself a car and studying for her CPA. I would call my Daddy up and say "Hey I hear you been bragging about me again". His response would be "And?? So what you're my daughter and I'm proud of everything you do I can brag about you all I want" and I'd say "but what if I ever do something wrong" his reply would be "well just don't ever do anything wrong but if you do then come up with a solution so that it doesn't happen again and at the end of the day I have your back and love you no matter what".
What I will miss most about my Daddy is his whole demeanor. He was so humble and cool. His aura and energy were like no other! I'm going to miss our daily phone calls. We called each other every day. Most times I was either on my way to work or leaving work and he would keep me company for the entire drive. Sometimes we would play a guessing game and he'll have to guess the exact time I would make it home by. Other times on these calls neither of us would be talking. And If I was giving my mom a ride to work she would say "Talk Howard, what type of silent conversation is this". But that was our thing. Sometimes all we needed to know was that we had each other on the opposite end of the phone.
Driving pass the reefs will never be the same for me as I would take south shore just because I know he would be there giving a lesson. I would scream out "Daddyyyy" whenever I drove pass and he would turn around flash his beautiful smile and put his hand up and say "ayyy". Our last hit on the court before he flew out was Me Lamar and Daddy. He worked us hard that day, so much that Lamar had to take a walk to throw up because he was so wounded. My Daddy was fitter than both us put together. We had intentions of coaching together once he recovered from his surgery. I would do all the physical work and he would do all the talking (or shouting rather). It is in my near plans to continue the Cross Legacy of Coaching Tennis.
I honor my father for finding his purpose. Tennis was not considered work for him. He loved it too much. He ate drank and slept tennis. His name should've been Howard Tennis Cross. There wasn't a conversation I had with him that didn't involve tennis, even if the initial conversation had nothing to do with tennis he would find some way to refer it to tennis. He loved each of his students as if they were his own and took pride in their development on and off the court. My daddy was a disciplinarian and extremely technical when it came to our forms. In his words, "Training was not the time for "clowning around", you can do that nonsense later".
My daddy taught me to always be grateful for what I had especially that he was able to provide for me. He reminded me that some girls didn't have their daddies in their lives and unfortunately would look for love in the wrong males. He taught me from a young age not to laugh at people who looked different from me because you never know what can happen to you. He was a true believer in good and bad karma. He often preached you do good and good will come back to you at the end of the day. Life's as simple as that.
Daddy from the bottom of my heart, I thank you for everything you have done for me. I miss you and I love you forever and ever! You can keep bragging because I will NEVER EVER stop making you proud! I ask that you continue to guide and protect me from all evil. Rest in perfect peace, I can't wait until we reunite!